Akuji Tsukiakari
First appearance
The Blue Flames Chapters
Created by
Akuji-san
Voiced by
Miyano Mamoru
Team/s
The Blue Flames/Kaiousei Gakuen
Element
Fire/Ice
Number
10,9,7 & 5
Position
Forward & Defender
Bio
Full Names
Akuji Maruka Tsukiakari
Japanese Name
私は寺ツキアカリ
English Name
Grey Masters
Nickname/s
The Facebook snitch
Age
13
Birthdate
25-02-1999
Birthplace
Tokyo
Nationality
Holland/Japanese
Notable Relatives
Haruna & Kidou
Family
Unknown
School/Class
3rd Year
Akuji's history
he Meeting & And The Scout Akuji was a guy with great talent whenever he played football he really won every time.(Akuji is made by me I have not stolen the name I really have nothing stolen). When he was 12 he tried the technique hissatsu fire tornado it was a huge, success after he tried to trick his friends they, were truly surprised they hissatsu friends tried a technique to create,Akuji had at that time, perfected his home made hissatsu called: Alpha Strike. After Akuji Alpha Strike, had tried a black football appeared from the air it was Aliea Academy was the Chaos! They wanted Akuji scout, but Akuji had a feeling that Chaos would use football as a weapon to destroy the planet earth. Akuji had rejected the offer. Akuji has made his own team called : The Blue Flames he needs also players, because he wants the show Aiden how strong he has been. Akuji need also players, if you are interested ? Give me you're fanmade character and the name of and the position.
Ultimate Miracle Shot
After the miracle Akuji mastered a technique called Vortex Impact the hissatsu was so strong that not even a Keeper hissatsu could stop the ball there was only a hissatsu, that can stop the ball it was the most Legendary keeper, Hissatsu the hissatsu called : God Hand Tiger V3 the problem was that Vortex Impact not has been able to evolving.Hissatsu Technique :
Hissatsu:
Shots:
Fire Tornado
Twin Crash
Moon Break
Alpha Strike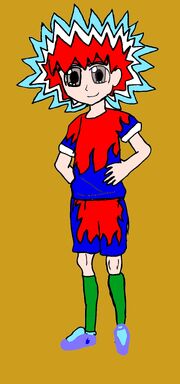 Alpha Legends
Dribble:
Hammer of Break
Ice Avalance
Steal:
Arrow Flame V3
Wall of Gaia
Kaguyo
Kaguyo is second Akuji but then more powerful then him. Kaguyo has a special eye it was yellow with a blue section. This eye is a kind of hatred/love type it's a legendary eye. The eye will give the keshin more power if he used it.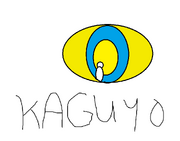 Sprite


Picture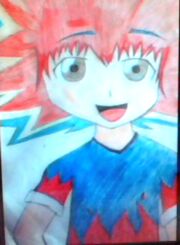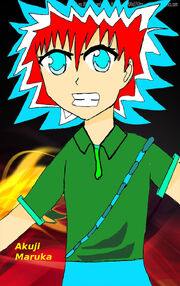 Adult
This adult form is a combine of Kaguyo and Akuji. He is not married. He has a black jacket he wears jeans and has white & blue shoes he still loves soccer he self is a coach of the team.....um i'm still busy on it :D.