I'm not in a very good mood now,so it can be a bit rude,or not so funny...
Aiden's final blow!
Aiden:Snow Angel!
Pierre:Hmpf!*Dodges*
Loretta:You're not coming trough me!Flame Dance!
Loretta tried Flame Dance,but another member of Big Babuschka tackled her,and she was on the ground.
Aiden:Loretta!You wont get away with this...WRAAAAAAAAAAAAAAAAAAAAAAAGH!Ryuusei Steal!
Pierre:Waah!
Aiden Gran:RYUUSEI BLADOS!
Eugine:Aurora Curtain...V2!I'll stop anything!
Aiden:Damnit...
Pierre:Shine Drive!
Hugo:Lion Fang!Aiden,GO!
Aiden:I will perform this technique...Without any help! SUPERNOVA!
Eugine:Aurora Curtain...V3!
Aiden:Eurgh!
Hugo:Everything OK Aiden?
Aiden:...Must...take...
Hugo:Take what?
Aiden:Must....Take....Revenge....WRAAAAAAAAAAAAGH!KESHINE...UNLEASH!SHINSEINA KORI-O!
Pierre:Shine...
Aiden:Snow Angel...Beam!
Aiden took the ball,as he was transporting in a beam.
Pierre:Waah!?
Aiden:C'mon Shinseina....FROZEN BLADOS!
Eugine:Tch.Tsunami Wall...Kai!
Aiden:Why...cant...i...score!?
Eugine:That didnt even look as a try...
Ulaf:Why is the goal open...Well,this is my chance...Assault shot!
Aiden:Tch...I will show my true power..Counter Strike..
Ulaf:How did you stop my shot with that weak hissatsu?
Aiden:Your just weak.
Ulaf:Tss!
Aiden:Why not try again?
After a little time,Ulaf was totally tired.Then,Pierre came,and the same thing happened with his Shine Drive.
Aiden:Weaklings.Bet i can be even more useful from here...Loretta!
I passed to Loretta.She wanted to shoot,but she fell over her leg.
Aiden:Loretta...They will not hurt someone anymore...NEVER....
Loretta:Put me on the bench...
Hitomiko:Midorikawa,you're in.
Midorikawa:Hayt!
Aiden:I'll leave this goal!
Aiden ran out of the goal.
Aiden:*Fluits* Space Penguins!
Eugine:Shin Tsunami Wall!
Aiden:No...
Pierre:Shine....
Aiden:Snow Angel!
Pierre:What the!?
Aiden:I must and will revenge her...*Fluits for Red Penguins*
Hitomiko:Aiden,stop it!
Hugo:Aiden,dont do that!
Everyone:Stop it!
Aiden:It is time for Revenge...KOTEI PENGUIN....ICHIGO!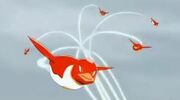 To be continued...
Hope it was'nt too rude,or not good or something,i'm not in the mood OK?
Ad blocker interference detected!
Wikia is a free-to-use site that makes money from advertising. We have a modified experience for viewers using ad blockers

Wikia is not accessible if you've made further modifications. Remove the custom ad blocker rule(s) and the page will load as expected.