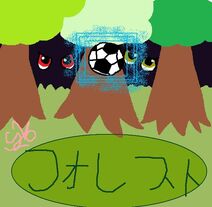 The Forest
is a fanmade hissatsu made up by
Kotoni~x
. It is a defence hissatsu
Users
Usage
The user lifts His/Her arms in the air and sings a soft tune, suddenly a huge forest roots up from the ground. Big glaring eyes stare at the oppenent. It is kind of like the Wall and the Mountain but its more detailed.
Game
In the second game it takes up 34 TP. In the third game, it takes up 32 TP. Kobayashi is the only one with this hissatsu.
Trivia
Kobayashi means small forest putting the pun on the user.
It is like The Wall and The Mountain
Signature and Notes
This is a hissatsu made by me!
Feel free to use it in fanfics and others but please ASK First!
Dont copy! I wont be over the moon if you do!
Kotoni~x 17:22, June 5, 2012 (UTC) Now Panic and Freak Out! Kotoni~x Talk/Blog I'm not Messy, I'm Creative.
Ad blocker interference detected!
Wikia is a free-to-use site that makes money from advertising. We have a modified experience for viewers using ad blockers

Wikia is not accessible if you've made further modifications. Remove the custom ad blocker rule(s) and the page will load as expected.