Snowstorm Blizzard

User:

Element:

Wind

Keshin:

Type:

[SH] Shoot Hissatsu
Info
It is the Keshin; Ice-Wind Warrior's Keshin Hissatsu. It has the Wind element. Rese Hanikamiya uses this technique.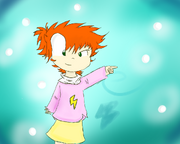 Usage
After the user calls out the Keshin...
A huge gust of wind blows through the field.
A heavy snowstorm follows.
The wind and snowstorm surrounds the user.
The user jumps high.
The user slams the ball with his/her foot.
The snowstorm and wind combo surrounds the ball.
The ball becomes frozen.
The ball heads towards the goal.
Snowstorm...
BLIZZARD!!
Ad blocker interference detected!
Wikia is a free-to-use site that makes money from advertising. We have a modified experience for viewers using ad blockers

Wikia is not accessible if you've made further modifications. Remove the custom ad blocker rule(s) and the page will load as expected.