Ravendale Academy/Ravendale Elementary is the main school in the fanfic "Legend of the Black Hawks". The soccerclub of these schools are the Black Hawks.
Uniform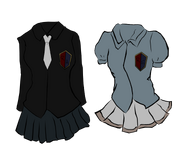 Information
Ravendale is one of the biggest and most private schools in the world, together with the other 4 schools, each from one continent. The school is known for it's maintenance of protocol, love for culture and arts, and is famous in a wide range of activities.
Ravendale is divided in three sections: the Academy part, the Elementary part and the part that is reserved for extracurricular activities and school clubs.
The main building is in the Academy part, because the Academy is the biggest building, and takes care of most of the things that goes on in the school. As you would expect, this is also where the Academy itself is located.
The Elementary building is located here, as well as most of the space of the school grounds. The Elementary building is not as big as the Academy building, but is, nevertheless, an important building of the school.
The part where the school clubs are located is by far the one that takes up most of the space. The swimming pool is located here, as well as the basketball field, baseball field, tennis field, dojo, arena and lots of clubhouses. The soccer stadium is located here as well.
Years
Elementary
1st grade- 6-7 years
2nd grade- 7-8 years
3rd grade- 8-9 years
4th grade- 9-10 years
5th grade- 10-11 years
6th grade- 11-12 years
Academy
1st year- 12-13 years
2nd year- 13-14 years
3rd year- 14-15 years
4th year- 15-16 years
5th year- 16-17 years
6th year- 17-18 years
Staff
Students
Ad blocker interference detected!
Wikia is a free-to-use site that makes money from advertising. We have a modified experience for viewers using ad blockers

Wikia is not accessible if you've made further modifications. Remove the custom ad blocker rule(s) and the page will load as expected.