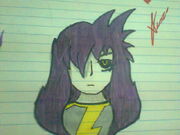 Nocturn is the captain of Raimon X.
Appearance:
He has purple hair kind of like Tobitaka(inazuma Japan).
Around his eyes, he has dark semi-circles.
Personality:
He looks gothic, but in the story is totally the oppost.
He's nice and doesn't likes to give up.
Hisatsus:
[DF] Night Slide
[SH] Obscure Cyclone
Ad blocker interference detected!
Wikia is a free-to-use site that makes money from advertising. We have a modified experience for viewers using ad blockers

Wikia is not accessible if you've made further modifications. Remove the custom ad blocker rule(s) and the page will load as expected.