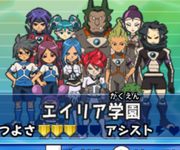 After the FFI,some players that were previous aliens reunited. But,they wanted to participate in the FFI themselves.They used their new "Genesis Meteorite" to look like their old forms,but keeping the same stats.They tried to be the new team for Japan,but Neo Genesis Japan failed against Storm Legends to be the team for Japan.Afterwards,they are training in the Sun Garden,challenging Storm Legends every time six months passed.
Members
1.Desarm(GK)
2.IQ(DF)
3.IC(DF)
4.Ganymede(DF)
5.Keeve(DF)
6.Metron(MF)
7.Crypto(MF)
8.Reize(MF)
9.Maquia(FW)
10.Ulvida(FW)
11.Gran(Captain/FW)
12.Nero(GK)
13.Pandora(DF)
Uniform
They all have different uniforms,but when playing serious,they wear a outfit of Red,Black and White.The GoalKeeper uniform is Black with Green.Gran assumes the Captains band that is Purple.

Trivia
This is based on the Aliea Gakuen Team from Inazuma Eleven strikers,but with a few edits.
You can use this team but ask for permission on my talk page!
Ad blocker interference detected!
Wikia is a free-to-use site that makes money from advertising. We have a modified experience for viewers using ad blockers

Wikia is not accessible if you've made further modifications. Remove the custom ad blocker rule(s) and the page will load as expected.