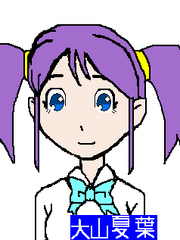 Natsuha Daiyama is a fanmade character by InazumaFan [signature:InazumaFan here!! (Know me) (Talk to me) (My Contributions) ] and a doppelganger of Ono Fuyuka.
Personality
She is a young, friendly person ready to help anyone, regardless of the situation.
Appearance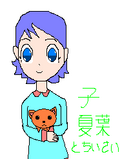 See image.
Story
She was first seen by Haruka taking a stray cat under her care. She was touched by this, and become friends.
Suddenly, they find it surprising to see again... being Raimon classmtes! She has a bit of a crush on Kazemaru, but she have Haruka have him. She feels bit jealous of Haruka, but she was completely clueless that Kazemaru has a crush on her. Though he feels jealous, she seems to let Haruka do what she wanted to.
Trivia
Like Akimi, her name is a complete opposite of Fuyuka's name.
She owns a cat named Chiisai.

Ad blocker interference detected!
Wikia is a free-to-use site that makes money from advertising. We have a modified experience for viewers using ad blockers

Wikia is not accessible if you've made further modifications. Remove the custom ad blocker rule(s) and the page will load as expected.