Hey, guys! This page is quite old, and at the moment, I can't be bothered to upload some art on here. Although, to make up for that, check here and here for newer artworks that are regularly updated! ~Piper, 12.22.13

Hello, minna!!
This isn't exactly a "book"; but a little special page I made.
As the name suggests, doodles!!
If/When I fill up a character's page of pictures/drawings, I'll put some newer ones here instead! So if you wanna see them, you can always check here :)
I'll also put some IE fanart here, too!
Also, feel free to request! I won't draw...you know, violent scenes and stuff like those, but if you want me to draw an OC/Fanmade Character or a canon character (I don't just mean Endou Kanon XD) or Canon characters with OCs are also accepted! (They'll go to the "Crossovers" section~) Just leave a message on my talk page or comment below!!
If you want to request, I'm gonna need some basic info, so fill out the following, or have your own way of explaining! Express yourself and your characters!~
Name (Can be a fanmade character or a canon character)
Hair Color+Style
Eye Color
Skin Tone
Outfit
Digitally (On the computer) or traditionally (On paper)?
Personality (That way, I can figure out what pose they could do and facial expressions as well. :D)
Background (Though it's optional to request a background; you may!)
Additional details?
That's all I can think of for now XD If I missed anything, please tell me!~
Note: I will be adding more pictures soon, so expect lots of updates!
I might be replacing some as well~ And/or redo-ing some, too~ Most of them are pretty old.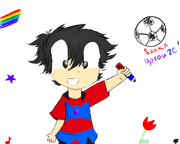 New!~ Art trades are officially....OPEN!~
Oh yeah! I'm open for art trades as well!
Exactly what is an art trade?

Well, it's like...I draw something for you; you draw something for me! X3 Vice-versa or the other way around works, too!
But definitely, the choice is yours if you want a request or an art trade!~
FanArt
My OCs
Requested Works
Crossovers
This crossover section is for the drawings that may have a slight crossover; may it be IE with a different series, or a more common thing, like OCs with canon characters!
Art trades
A section for the pictures corresponding to art trade activities!~
Gifts, Contest entries, Miscellaneous
A gallery for gifts, entries and others~
One thing you should know about me - I love giving out surprisegifts!
Remarks
Like I said, feel free to request~

Art trades are open, too~ Feel free to trade!

Also, collabs are open!~

Comments, suggestions, tips, and others of the like are also more than welcome!

Also, feel free to check on anytime for regular updates! :3
If you wanna see some samples or other works that aren't here...I'll link you...Here and here. They're in the "Pictures" section. :3
Note that I will replace some of my old drawings~
I hope you'll like 'em!!~
Credits:
I don't own Inazuma Eleven, any part of it. In other words, Inazuma Eleven belongs to Level-5.

Same goes for "Crossovers". Any series included in the certain crossover belongs to their respective owners~

Some requested works and/or art trades contain drawings of other users' characters, I don't own them as well. They belong to whoever made them.
Only my characters/OCs and art belong to me!
Minna, sakka yarou ze!!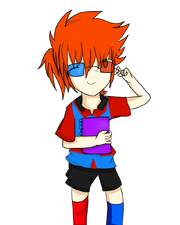 Piper was here! | talk page | Look here for very random doodles and art!~ XD 15:13, September 3, 2012 (UTC)
A gazelle stampede coming your way! | Speak to a gazelle from the stampede~ 00:22, July 30, 2012 (UTC)
Ad blocker interference detected!
Wikia is a free-to-use site that makes money from advertising. We have a modified experience for viewers using ad blockers

Wikia is not accessible if you've made further modifications. Remove the custom ad blocker rule(s) and the page will load as expected.