Ya, minna~!
I've noticed loads of people have been making pages for their fanart, so I decided to make one too~!
There arent many pictures at the moment but hopefully there'll be loads soon!
Requests~!
I'm happy to take requests if anyone has any~ I've realized that all my computer art is rubbish, so I'll do all requests on paper~ I can do either canon characters or OCs if you want me to do a canon character please put the name of the character and then maybe a link to a base picture.
For OCs
Name: (Last, first)
Gender:
Text: (Any text you want on the picture, like the name of the character or a special message? Please put it here! I'm happy to write in Japanese, and I can draw kanji if you want)
Hair syle:
Hair color(s):
Eye color(s): (If you want, I can do eyes in different colors)
Outfit: (Please put a lot of detail, including colors and lengths)
Shoes: (Socks are optional. If you want socks please put lengths and colors)
Jewelery:
Makeup:
Extra info:
OCs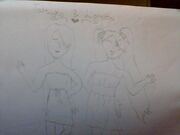 Requests
Doodles
Sketches
Signature & Notes
Since I don't have any OCs yet (other than Megami Tenshi) most of the OCs I draw will be Mika's.
All of this art was drawn by me, I can assure you I haven't copied or used other people's work (Well, on a few of the drawings Mika drew faces and stuff but excluding her).
PLEASE don't use these pictures and pretend they were drawn by you and / or belong to you.
You're allowed to use these pictures, but PLEASE ASK ME FIRST!!!
Issho ni wa totemo sensai ni ukabudarou... 17:09, May 8, 2012 (UTC) (~Ketsurui~)
Ad blocker interference detected!
Wikia is a free-to-use site that makes money from advertising. We have a modified experience for viewers using ad blockers

Wikia is not accessible if you've made further modifications. Remove the custom ad blocker rule(s) and the page will load as expected.