Mugen No Arashi (English: Endless Storm) is one of the Aliea Academy elite teams. It is the true top team of Aliea Academy, surpassing even the Genesis. Every member of the team is dead as a human.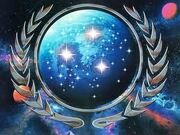 UNIFORM
The male team jersey consists of a black short-sleeved hoodie. The pattern on the front has a slight similarity to the Ogre jersey, though in bright red. The main color of the hoodie is black, though the hood, edges of the sleeves and the shorts are dark blue. On the sleeves there is a single X shape on the front of each one. Also on the back of the jersey there is a large brigth red X shape. Their cleats are grey boots with black trims, they also wear black socks that fade out to white at the top. The female jersey consists of a 3-quarter-length sleeved t-shirt. The color of the jersey is silver with dark pink patterns, the same as the boy's jersey patterns. The girl's wear leggings that are skin-tight and black. Their cleats are exactly the same as the boys, though Sakura and Rita have high-heeled boots that reach just under their knees.

MEMBERS
1: Kazemaru Trant (GK/MF)
2: Desuta (DF)
3: Izayoi Jayke (DF)
4: Dren (DF)
5: Kreene (DF)
6: Izayoi Mika (MF)
7: Izayoi Chani (MF)
8: Granet (MF)
9: Endou Mamoru (MF/GK)
10: Hana AKA Kiyama Sakura dark aura (FW/Captain)
11: Kira Rene (FW)
12: Rita (FW)
13: Ace (MF/DF)
14: Jocelyn (DF)
15: Aki Tatsuko (MF/FW)
16: Phoenix Yuki (FW)
MANAGERS
Kiki Mizu
Rokku Tawa
Senotakai Shiro
PLAYER GALLERY

HirotoObsessedFangirlXD 11:28, March 17, 2012 (UTC)
Ad blocker interference detected!
Wikia is a free-to-use site that makes money from advertising. We have a modified experience for viewers using ad blockers

Wikia is not accessible if you've made further modifications. Remove the custom ad blocker rule(s) and the page will load as expected.