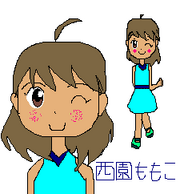 Momoko Nishizono is a fanmade character in this wiki. She is the younger sister and supporter of Shinsuke Nishizono.
Personality
She is a cute person and is ready to support Shisuke.
Appearance
See image.
Story
I have yet to make a fanfic pertaining to her.
Trivia
Momoko is merely made out of randomness.
Signature: InazumaFan here!! (About Me | Talk | Contribution) 02:36, August 2, 2011 (UTC)
Ad blocker interference detected!
Wikia is a free-to-use site that makes money from advertising. We have a modified experience for viewers using ad blockers

Wikia is not accessible if you've made further modifications. Remove the custom ad blocker rule(s) and the page will load as expected.