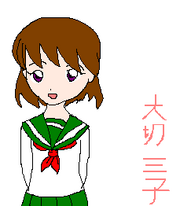 Mitsuko Taisetsu is the youngest child of the Taisetsu Family.
Family
Hyaku Taisetsu - Father
Juuko Taisetsu - Mother
Hitori Taisetsu - Older brother
Futari taisetsu - Older brother
Nanami Taisetsu - Aunt
Rokudou Taisetsu - Uncle
Personality
She is a young girl with simple dreams. She loves soccer as much as her brothers do. She also plays as forward in her elementary school team.
Appearance
No need for an explanation; see image there!
Trivia
Her name comes from a number.
Ad blocker interference detected!
Wikia is a free-to-use site that makes money from advertising. We have a modified experience for viewers using ad blockers

Wikia is not accessible if you've made further modifications. Remove the custom ad blocker rule(s) and the page will load as expected.