Makou Enzoul Is The Captain Of Inazuma Tamashii.He Is A Student At Inazuma High School.He Is Class B3.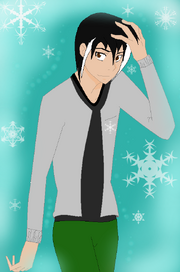 APPEARANCE
He Has Dark Black Coloured Hair With White Highlights.He Has Pointy Hair tipping Down His Forhead,With Neck-Waisted Hair At The Back.He Has Healthy Skin,Dark Brown Eyes.His Casual CLothes Are Black T-Shirt With A Grey Jacket And Dark-Green Pants With Brown Shoes.Sometimes He Wears Glasses With Dark Brown Frames.When Playing Soccer,He Wears The Inazuma Tamshii Uniform.
PERSONALITY
He Is Quick To Be Excited,He Is Passionate For Soccer,He Also Never Gives Up.He Is Brave But Sometimes He Can Be Fumble,But Smart And Quite Sometimes,He Loves Soccer With All His Heart.He Is Quick To Make Friends.He Is Best Friends With Shun Nashiki.
BACKROUND
When He Was Five,He Went To His Grandfather's House,He Saw His Grandfather Play soccer And Was Amazed When He Saw His Grandfather Play Soccer,He Was Excited To Play Soccer And Told His Grandfather That He Wanted Play Soccer. He Then Became A Foward.He then Wishes To Follow In His Fathers Footsteps Of Becoming One Of The Greatest Fowards And Dreams To Be Japans Greatest Captain Of His Very Own Team.He Then Went To Inazuma High School And Opened A Soccer Team Called Inazuma Tamashii He Then Met Shun Nashiki And They Became Best Friends.
HISSATSU
(SH):Fire Blade
(SH):God Fire Ball
(SH):Volcano Burst
(DF):Ryuusei Blast
(OF):Phonixe Boost
TRIVIA
Feel Free To Use Him,But Ask Me First!
Made By:--''What Becomes New In The Present,Becomes Old In The Future...'' 03:03, March 26, 2012 (UTC)
Ad blocker interference detected!
Wikia is a free-to-use site that makes money from advertising. We have a modified experience for viewers using ad blockers

Wikia is not accessible if you've made further modifications. Remove the custom ad blocker rule(s) and the page will load as expected.