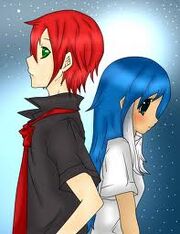 Limiter's love is a one-shot fanfic about Hiroto x Reina.
Story
The Limiter
"I am not gonna do it..." Hiroto said to a girl.
"Then i will do it!We must win at all costs!" the girl said.
"You dont get how painfull it is!?" Hiroto screamed.
"Hiroto...."
"No Hiroto,Reina.I dont want you to do it."
"I will win at all costs,unlike you!Those humans infected you..."
"Dont do it!We can defeat them with-" Hiroto couldnt finish his line.
"Its for father..."
"I cant change your mind,Reina..."
The Match
The Match with Raimon ended in a lose.
"I used it...I USED THE LIMITER!THOSE HUMANS ARENT NORMAL!" Reina screams.
"Reina..."
"WHAT REINA,HIROTO!?ITS BECAUSE OF YOU!YOU DID'NT PLAY AS NORMALLY!"
Reina kicked a ball against Hiroto.
"Reina,calm down..."
"The Genesis project was a mistake...I should've chosen better players..." Father said.
"Mistake...Did you say mistake...?"
"Yes"
"YOU ARE A MISTAKE!"
After the match
"I cant believe we lost...and that he called me a mistake...I am perfect...PERFECT!

"No one is perfect,Reina..."
"I AM PERFECT!!!!"
"The reason i did'nt play as good as usual is not because of them..."
"THEN WHAT IS YOUR REASON!?WELL!?
"You..."
"W-What...?M-Me...?"
"Reina..."
"What is it?Are you gonna say it's MY fault!?"
"I love you"
"W-What...?"
"I love you Reina..."
"I love you too Hiroto...But we may not love eachother i-"
Hiroto kissed Reina in a fine way.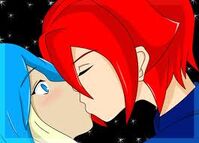 "Hiroto,this is forbidden..."
"I dont care!I love you,i dont care if forbidden or not!"
"But Hiroto..."
"Reina,i dont wanted to use the Limiter because it would hurt you..."
"Thank you Hiroto"
"You dont have to thank me.All i want to do is get this off of us!"
Hiroto throwed his Aliea Rock on the floor.Soon,he did the same thing with Reina's.
"Hiroto~kun!!!"
"Our life together will be much better without those..."
End
I hope you liked it!!!I made this for one of my best friends,Mikachu~Chan!Issho ni wa totemo sensai ni ukabudarou...
Let my cold wind flow in your heart 20:11, March 31, 2012 (UTC)
Ad blocker interference detected!
Wikia is a free-to-use site that makes money from advertising. We have a modified experience for viewers using ad blockers

Wikia is not accessible if you've made further modifications. Remove the custom ad blocker rule(s) and the page will load as expected.