Kurai Akuma No Joō(Dub Name:Dark Devil Queen) Is The Keshin Of Gemini Prowers.This Fanmade Keshin Is Made By:Onigiri Chan.Its Nickname Is Demoniline
Users
Serra Ryuuji
Keshin Hissatsu
Shi No Danmaku
Picture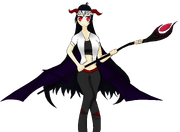 Keshin Appearance
The Keshin Is A Girl.She Has Long Dark Black Hair,White Highlights,Red Crimson Eyes,Pale Skin Colour.She Weares A Black Shirt With A White Coat,Black Pants With one Red Stripes At Both Of The Sides.Has A Staff That A Necklace Is Keeped In There.The Necklace Is Worn By Both The Keshin User And The Keshin.The Necklace Is A Small Blue Perfume Bottle As The Charm For The Necklace And A Grey Chain.the User Keeps Their Keshin In The Necklace.This Keshin Also Has Devil Wings.
Keshin Hissatsu Usage
Gemini First Summons Her Keshin.Gemini Stomps Her Feet And Bows Down And Says:"Kurai Akuma No Joō!"The Keshin Then Grabs Her Staff And A Dark Ball Of Darkness Then Appears Out Of The Staff.The Keshin Then Slams Her Staff Down And Hits The Ball.Coverd With Dark Energy,Heading Towards The User.The User Then Runs Forwards And Kicks The Ball For A Boost.The User Yells:"Shi No Danmaku!" While Kicking The Ball.The Ball Then Heads For The Goal.
Trivia
This Keshin Is Made Fully By Me.
This Is A Dark Keshin Type.
Feel Free To Use This Keshin.But Please Ask Me First!
Also Do Not Copie This Keshin,Do Not Copie The Name Of The Keshin And Please Do Not Claim This Keshin As Your Own.
If You Want To Know,I Used Google Translate For The Name.
Made By:
--"Im Gonna Reach For The Stars!...Although They Look Pretty Far~ 17:42, April 22, 2012 (UTC)
Ad blocker interference detected!
Wikia is a free-to-use site that makes money from advertising. We have a modified experience for viewers using ad blockers

Wikia is not accessible if you've made further modifications. Remove the custom ad blocker rule(s) and the page will load as expected.