Kii Florence
[[Image:|250px]]
First appearance
Unknown
Created by
SkullCandy-hime
Voiced by
SkullCandy-hime
Team/s
Pandora Hearts, Seishun Genesis
Element
Fire
Number
3
Position
Defender
Bio
Full Names
Kii Marcha Florence
Japanese Name
???
English Name
Florence Flayte
Nickname/s
Floss / Flossie / Flo
Age
12
Birthdate
24th November
Birthplace
Nara, Japan
Nationality
Japan
Notable Relatives
Kii Fumiko
Family
Kira Seijirou (guardian)
School/Class
Second Year
Kii 'Flossie' Florence is the younger sister of Kii Fumiko, and an orphan at Sun Garden Orphanage.
She is 12 years old, and is a Second-Year at Sailor Star Academy.
Appearance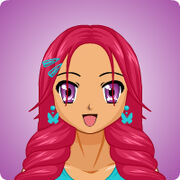 Florence's hair is almost identical to her Onee-san's, though Florence's is longer, and more pink in colour. Her eyes are lilac, matching her sister's, though the shape of her eyes is a lot bigger and more innocent. She wears two light-blue clips in her hair, similar to the clips Kiyama Sakura wears. She also has the same earrings as Kiyama Sakura, though her's are coloured blue like her hairclips.
Her casual wear consists of a purple dress that reaches just above her knees, and has slightly puffy sleeves and a locket-neck. Her shoes are purple, silk, slip-ons.
Her Sailor Star uniform is coloured purple, and consists of the default white shirt with a purple bow tied around her neck, a purple mini-skirt, light-lilac over-the-knee socks, and the default shoes coloured dark purple.
When swimming, she wears a light-lilac tankini with tiny, blueberry patterns on the top, and one blueberry on the pocket-area of the shorts.
Her nightclothes consist of a short-sleeved, short dress that's coloured purple.
Personality
Florence is quite a bubbly and fun girl, who loves animals. She favors dogs, and really likes Springer Spaniels and owns a young one called Chi-Chi.
She seems to be slightly naive, and absent-minded, though she is extremely smart and strong when it counts.
She seems to be quite good friends with Kiyama Sakura, judging by the fact she is usually seen hanging around with her, and they're the same age.
[UNFINISHED. Wow, I really have to start FINISHING my pages...]
SkullCandy-hime 20:09, June 1, 2012 (UTC)
Ad blocker interference detected!
Wikia is a free-to-use site that makes money from advertising. We have a modified experience for viewers using ad blockers

Wikia is not accessible if you've made further modifications. Remove the custom ad blocker rule(s) and the page will load as expected.