Katsumi Aqune is a fanmade character in the Inazuma Eleven Universe.
Katsumi Aqune
First appearance
???
Created by
Tenshi Lightangel
Voiced by
???
Team/s
EXO
Element
Light
Number
13
Position
Forward
Bio
Full Names
Katsumi Aqune
Japanese Name
克己
English Name
Aylin Light
Nickname/s
Aqune
Age
14
Birthdate
13 September 1998
Birthplace
Tokyo, Japan
Nationality
Japanese
Notable Relatives
Virgo(Older sister)
Family
Virgo(older sister)
School/Class
Shibuya High School 11B

(Lady Manners School In Dub)
Appearence
Aqune has Long Dark pink hair usually tied with a blue small tie and is seen in her school uniform or soccer uniform. Her casual clothes are seen to be a long blue and white dress followed by blue shoes and a blue bracelet. she has red eyes and average skin.
Personality
She is seen to be a cheerful person and caring. She is seen to be friendly towards everyone espically her friends and family. Thought she can be shy sometimes.
Background
Not much is known about Aqune's past except that she is virgo's sister. It is unknown if her parents are alive or dead since she doesn't mention them much. Saying that she doesn't know what happened to them.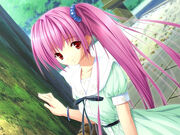 Hissastu
[SH] Love Arrow
[SH] God Knows
Trivia
She is Tenshi's first fanmade character.
Feel free to use her but ask tenshi first.