English Name: Serande Olives Nick Name: Sera Japanese Name: Jimei Fuyumi Japanese Nick Name: Mei, Mei-Mei Hair: Aqua Eyes: Dark Pink
Plot: She is the Inspiration of Kenji Haruya (in other words Crush), She is smart she mostly gets perfect in every test, kind and quiet. She is an orphan, she is under the care of her older sister which is 17 years old. She is too good in soccer, but she does not join the soccer club on what Kenji joins in. She does not seem to notice Kenji having a crush on her. Kenji would always act his best and show his killer moves( when playing soccer). She is mostly seen sitting at the bench, alone and reading a book. She plays the flute, the only person who she talks to (and viceversa) is Kenji Haruya, her older sister, to her teachers, anyone older than her she responds, and her only female friend, Zukumi Teku (Elly Fields), and she does not respond to people who makes fun of her. she turns back on them and does not mind them as if they did not exist. Her main Technique is the Water Lily and the Tsunami Break her element is water). Kenji let's her join the Soccer Club, and become even more compatible together.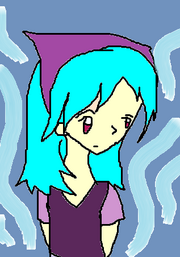 Ad blocker interference detected!
Wikia is a free-to-use site that makes money from advertising. We have a modified experience for viewers using ad blockers

Wikia is not accessible if you've made further modifications. Remove the custom ad blocker rule(s) and the page will load as expected.