Jason FireBlaze
First appearance
The new FFI~ Chapter 1
Created by
AidenFubuki "Mistre"
Voiced by
Myself
Team/s
Black Hawks (Originally)

Unicorn (FFI)

Element
Fire
Number
20
Position
GK (Mainly)

FW

Bio
Full Names
Jason Ignition FireBlaze
Japanese Name
ジェイソンファイアーブレイズ

ジェイソン 火災炎 (Simple)

English Name
Jason FireBlaze
Nickname/s
Knight of Fire

Phoenix Twins

Age
15
Birthdate
30 April
Birthplace
America, California
Nationality
American

Japanese

Notable Relatives
None known
Family
None known
School/Class
Ravendale Academy, Year 3
Jason FireBlaze Second GoalKeeper of the Black Hawks.He is an OC and fully made by me.
Let my cold wind flow in your heart 16:47, April 11, 2012 (UTC)
Backstory
When Jason was young, he lived in America, and he learned most of his doings from Ichinose Kazuya, Domon Asuka and Nishigaki Mamoru. But he moved away to Mexico in his childhood, so almost nobody remembers him. In Mexico,he learned the doings of Indians, and learned everything with Fire. Then,he moved to Japan.
Hissatsu
[GK]Shin/Nekketsu Punch -[GK]Kaen Housha/V2

[GK]Bakuretsu Punch/Kai-[GK]Shin/Dai Bakuhatsu Harite
[GK]Burning Catch/Goku-[GK]Burnout/V2
[GK]Shoot Break/S-[GK]Power Spike/A
[SH]Fire Tornado/Kai-[SH]The Phoenix/V4
[SH]Bakunetsu Storm/G2-[SH]Dragon Cannon/V3
[SH]Pegasus Phoenix GX
[DF]Shin/Flame Dance-[OF]Heat Tackle/Kai
[KH]Kyūkyoku no faiyāsutoraiku (Ultimate Fire Strike)
[K]Kyūkyoku no hi-nushi (Ultimate Fire Lord)
Info
Age: 15
Year: 3
Element: Fire
Position: GK/FW
Number: 20
Team: Black Hawks (Scroll up for link!)
Appearance
He has Orange eyes, wich stand for his fiery attitude.He has Red hair with Orange in the middle wich actually stand for Fire.He also wears a White Headband with Japanese Signs on it,meaning "Fire"(火災) .He mostly looks angry, but he can be very nice.When he is in a match,he is very serious and is only focused on stopping the ball.Outside from matches,however,he is very cheerful and happy,always saying others are doing good.When he sits on the bench,he doesnt actually sit,but he is warming up for if he is needed.
Trivia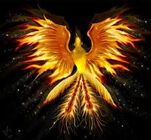 He was originally made for The Black Hawks, and later used for my own purposes.
The signs on his headband means "Fire".
His Shoot, Dribble and Block Hissatsu can only be used as Forward, and his Catch Hissatsu can only be used as Goalkeeper.
He has a crush on Nonomi-Nee-Chan, Toramaru's neighbor.
All his Hissatsu are Fire-Element.
When he plays in Unicorn, the Commentator sometimes refers to him and Ichinose as the "Phoenix Twins".
Because he is American, Jason is his first name and FireBlaze his surname.