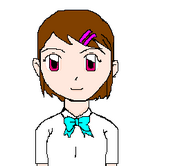 Haruka Ko (
子 遥か, Ko Haruka
) is a fanmade character for the Inazuma Eleven anime.
Personality
She is a very kind girl, yet is very short-tempered. Her creepy smile says that she is about to get enraged. But behind those funny emotions are her loneliness inside her heart for having no family left, but a lot of friends she have is enough to cover these sadness.
Appearance
See image for the appearance.
Age
She's a year younger than Haruna.
Story
In her sixth grade, she heard of the triumph of Inazuma Japan, sho she asked her mom to go to the Raimon school (not because of soccer, but because it's the only middle school she heard of). When she enrolled there, she met Toramaru, whom she became her classmate. She also met all the Raimon members, and when they became friends, she became a Raimon manager.
Her secrets
She's an orphan.
She's a tomboy.
She don't want her hair to grow longer (though most people want her hair to grow long).
Though Toramaru got a crush on her (which she didn't know), she got a crush on Kazemaru (despite being a tomboy).
Trivia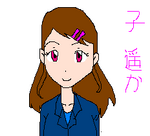 It's ironical that she, having a nearly mannish hair, has a crush on a long-haired boy.
Ko means child, while Haruka means faraway.
If she were to appear in Go, she became a teacher.
Signature:InazumaFan here!! (Know me) (Talk to me) (My Contributions) 04:01, June 22, 2011 (UTC)