Galactica Flame is a fanmade Keshin made by Piper and used by Rese Hanikamiya. It wields the element of Fire; contrasting to its counterpart, Ice-Wind Warrior
Galactica Flame

User:

Element:

Fire

Keshin Hissatsu:

Blaze War [KH]

Dub Name:

Flame Galaxy
Info and Appearance
Rese Hanikamiya's Keshin. It wields the element of Fire. This Keshin contains many shades of red, from dark, to light. It has yellow (which gradually gets darker until it reaches the fur) colored "horns" which emit electricity, and conducts flames. Its claws also emit fire It looks somewhat like a beast, it has blue colered eyes.
(For more info, see the picture)
Usage
As soon as the user gains possession of the ball, he/she stops in the middle of running; steps on the ground and calls out the Keshin. As the user's aura and power fuses with the Keshin's spirit, the Keshin appears, from the smoke of the flames surrounding the user. The user points towards the goal and follows be the Keshin howling. The user prepares to use the Keshin Hisstasu.
Evolution
(Will put up soon)
Keshin Armed/Mixi Max
The Keshin doesn't have an armor, but it may be Mixi Maxed with the user, which may also be classified as an armor.
It was first discovered when Clark Wonderbot accidentally pointed and shot the Mixi Max gun to Rese and her Keshin, thus it became a result of a Mixi Max/Keshin Armor.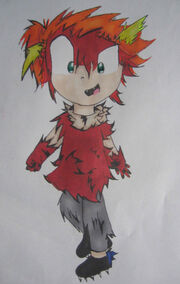 Keshin Hissatsu
Trivia
Ad blocker interference detected!
Wikia is a free-to-use site that makes money from advertising. We have a modified experience for viewers using ad blockers

Wikia is not accessible if you've made further modifications. Remove the custom ad blocker rule(s) and the page will load as expected.