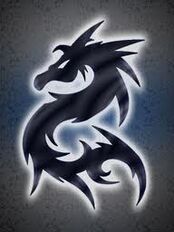 "
We're dark, We're dragons, We're hidden in the shadows...We're The Dark Dragons
"

–The Dark Dragons
Uniform
The shirt is simillar to Inazuma Japans', it is all black and it has a blue collar. The shorts are dark blue. The logo of the uniform is: A black dragon opening it's mouth, and a soccer ball in front of it's mouth. And at the end of the selves, is yellow.
Uniform (Goal-keeper)
The selves are dark grey and the body part is black. The shorts are like the other players, dark blue. And, the golves are white from the palm and grey on the other side. And, it has the logo on the body part, like the other players.
Formation
FW- Nano Ring (Captain)
FW- Konan Ushira
MF- Linda Shirakan
MF- Alice Shuri
MF- Helena Gotwill
MF- Nanashi Abashira
DF- Zoey Menshell
DF- Athena Takewood
DF- Rin Aroushi
DF- Lexi Ring
DF- Lola Nongo
GK- Jane Highwill
Coachs and Managers
Coach:
Coach Lucia
Managers:
Roxy Midline
Numbers
-Nano (10, 9)
-Konan (5, 12)
Note:
Hey guys,
You can join as a male OC now. And now I'm allowing 5 more boys to join. So you have a chance to be in the team as a male!
1: (empty)
2: (empty)
3: (empty)
4: (empty)
5: (empty)
P.S.
You can be a manager, too. (Only girls)
See ya!
NanoForever (talk) 13:16, August 11, 2012 (UTC)User:NanoForever
Ad blocker interference detected!
Wikia is a free-to-use site that makes money from advertising. We have a modified experience for viewers using ad blockers

Wikia is not accessible if you've made further modifications. Remove the custom ad blocker rule(s) and the page will load as expected.