Blaze War

User:

Rese Hanikamiya

Element:

Fire

Keshin:

Type:

[SH] Shoot Hissatsu
Info
It is the Keshin; Galactica Flame's Keshin Hissatsu. It's Element is Fire. Rese uses this technique.
Usage
After the user calls out the Keshin....
Flames surround the field; clashing againt each other.
As the user jumps up, flames follow.
The user slams the ball with his/her foot from above.
The ball is enveloped in flames.
The ball heads straight to the goal; the speed and power comes from the power of the flames.
Blaze...
WAR!!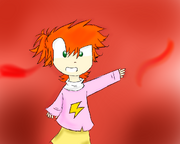 Ad blocker interference detected!
Wikia is a free-to-use site that makes money from advertising. We have a modified experience for viewers using ad blockers

Wikia is not accessible if you've made further modifications. Remove the custom ad blocker rule(s) and the page will load as expected.