Hana is the alien alias of Kiyama Sakura. She appears in the fanfics I Need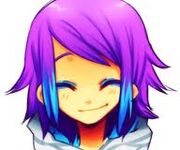 You, A Chronological Nightmare - My Life and possible Animal I Have Become.
APPEARANCE
She has bright purple hair that reached just past her shoulders. Her hair is tipped with azure-blue including her shoulder-length bangs and fringe. Her fringe almost reaches her nose but is swept neatly to the side and is tucked underneath the top of her bangs. She wears the female Mugen No Arashi jersey though her's is personalized. Instead of the ankle-length flat-soled boots that everyone else wears, she wears knee-length high-heeled boots that are mainly black with bits of white instead of mainly grey with bits of black.
PERSONALITY
She is slightly arrogant and sure of her abilities. She thinks of herself as quite perfect and flawless, though her personality is also stronlgy similar to Gran's.
HISSATSUS
[SH] Perfect Darkness
[SH] Fuyu Yuki
[SH] Supernova
[OF] Black Magic
[OF] Shooting Star
[DF] Lunar Lights
[SK] Superstar!
TRIVIA
Hana is made fully by me.
Feel free to use her, but please ask first!
Her picture is also used for my other OC, who you'll find out about soon~
Ad blocker interference detected!
Wikia is a free-to-use site that makes money from advertising. We have a modified experience for viewers using ad blockers

Wikia is not accessible if you've made further modifications. Remove the custom ad blocker rule(s) and the page will load as expected.